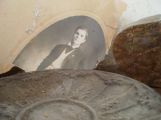 March 31, 2012
In the course of our Eastport kitchen renovation on Shackford Street, many misplaced relics from the home's first family spilled from the walls; a 1904 calendar, a photo of a dapper young man in a suit and a vaudeville ticket to name a few.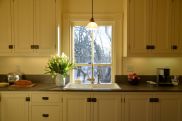 March 20, 2012
The director of Campobello International Park kindly emailed photos of the Cottage's butler's pantry and kitchen. Elements like brass cupboard latches, bead board doors and soapstone countertops felt just right for our Queen Anne's Victorian kitchen.

March 7, 2012
Designing a kitchen starts the minute we see the space; wheels are in motion - ideas begin to percolate. Even as the renovation continues to take shape we commit where we have to but keep our options open till that last stroke of paint.

February 18, 2012
We can never resist an invitation to tour an antique basement or attic. Luckily for our project, the original installers of our Queen Anne's tin ceilings a century ago, had taken the leftover scraps and secured them for safekeeping.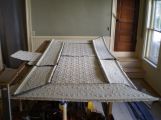 February 8, 2012
One of the most stunning surviving features of our Queen Anne's old kitchen was its wonderfully ornate tin ceiling.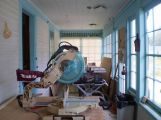 January 15, 2012
The dining room and kitchen in our Queen Anne house project in Eastport had been stripped of its architectural elements and covered up with birch veneer paneling - virtually head to toe. Fortunately the rest of the house was left intact, giving us a model to work from.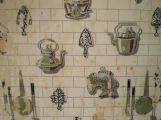 August 21, 2011
Our clients were not quite sure where the original kitchen in their Queen Anne cottage had been. Modern paneling was obscuring the evidence and rumor had it that it had once been located in the fully finished bead board basement.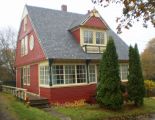 July 10, 2011
In a town filled with ancient Cape Cods, Federals and Second Empire mansards, this sweet, well kept,1899 Queen Anne cottage really stands out.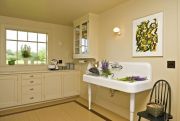 May 29, 2011
Building new cabinets is one part creative thinking and one part problem solving. There are many practical questions to work through.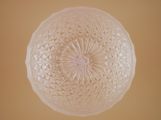 May 20, 2011
Peeling back the layers of our significantly altered kitchen, unearthed just one original feature that had actually survived intact - the 4 inch wide, clear pine, strip floor.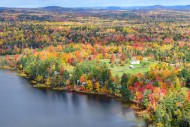 fineartistmade blog
A journal about home design, gardening, art & all things Maine. Read more...
FAVORITE POSTS